More than a woman in business: Shinta Kamdani talks leadership in economy
Mar 09, 2020
Being a businesswoman in an industry dominated by men has inspired Sintesa Group CEO Shinta Kamdani to open more doors for women to not just work but also to become leaders in Indonesia's business community.
To commemorate International Women's Day, which falls on March 8, The Jakarta Post's Eisya A. Eloksari sat down with the deputy chairman of the Indonesian Chamber of Commerce and Industry (Kadin) on Feb. 19 to talk about her group's effort to support female workers. She shared her group's business plan as a business group that runs businesses in consumer goods and energy to an industrial estate and property.
Below is the edited excerpt of the interview.
Question: You are often referred to as an influential woman. What is your take on that and how do you use your influence to create good business practice?
Answer: I don't see myself as only a woman in business, but I am also a business leader. I am also a deputy chairwoman for international relations at the Indonesia Chamber of Commerce and Industry (Kadin) and I think a lot of things I do is not just for my own business but to support the country's trade, investment ecosystem and economic growth.
Unfortunately, there are still only a few female business leaders in Indonesia because the problem is not only how to attract women to enter the workforce but also how to encourage them to have the willingness to become leaders. They face many challenges, especially regarding work-life balance where they are expected to do all the domestic chores even if they have a job.
This motivates me to push women into becoming professional leaders or entrepreneurs by conducting mentoring programs, initiating the Indonesia Business Coalition for Women Empowerment (IBCWE) organization and establishing the Angel Investment Network Indonesia (Angin) a venture company that emphasizes women entrepreneurs.
Sintesa is the first business group to be certified with Economic Dividend for Gender Equality (EDGE) certification and there is no gender pay gap in the Sintesa group. We make it easier for women by providing lactation rooms and we are developing daycare too so women can work with ease. However, we are seeing more men with a desire to be involved in domestic affairs such as taking their kids to school.
You were named one of the chairpersons of the United Nations' Global Investors for Sustainable Development Alliance (GISD Alliance) last year. Can you share with us your role in the alliance?
The GISD alliance aims to create business models for investment initiatives in sustainable development. 30 business leaders chair the alliance, three of which are from Asia and I am one of them.
I was chosen because I have been championing SDGs [Sustainable Development Goals] in Indonesia for a long time. I've initiated the Indonesian Business Coalition on Sustainable Development that helps businesses incorporate some of the SDG values.
At the Sintesa group, we have an Urban Food Security program in support of sustainable production and consumption. We uphold gender equality and we only deal with renewable and clean energy.
With that in mind, maybe the United Nations saw me as a good example and a good fit to chair the alliance.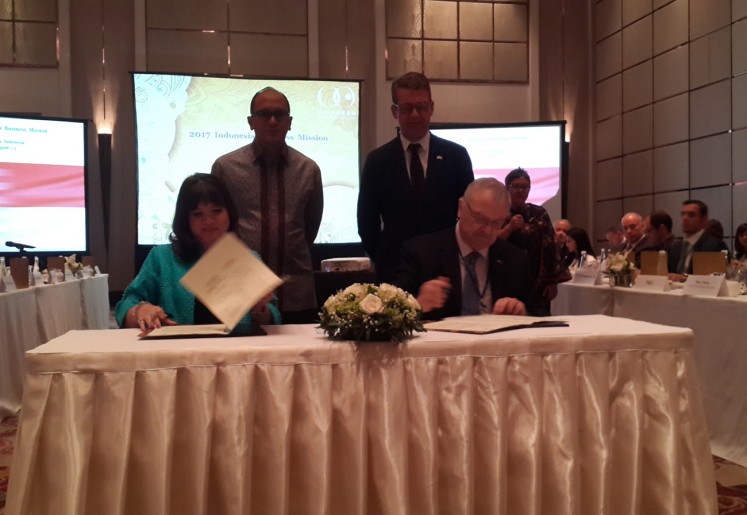 Indonesia Chamber of Commerce and Industry (Kadin) deputy chairman for international relations Shinta Widjaja Kamdani (left) and US ASEAN Business Council senior vice president Michael W. Michalak sign agreement to enhance collaboration to help better investment climate in Indonesia in this file photo. (JP/Stefani Ribka)
What is Sintesa Group's plan for 2020?
First, we want to continue being a sustainably excellent company by integrating Sustainable Development Goals (SDG) in our business model. Secondly, we are going to focus on consumers in e-commerce in the digital economy sector.
In our property sector, we want to focus on the Likupang Special Economic Zone (SEZ) project so we will hold our hotel's expansion for the meantime. Meanwhile, we are in the middle of drilling a new geothermal source.
We have four business sectors and each of them has a specific target but the key is investing in human capital. I believe that with proper training for our human resources, we can anticipate economic uncertainties and all the challenges this year may bring.
We are planning to undertake an initial public offering (IPO) for two of our other companies.
The first one is an energy subsidiary and an IPO will be held shortly. Sintesa also plans to carry out an IPO for our property subsidiary but it is still in our midterm plan because the property market is quite unstable right now.
Sintesa through the Minahasa Permai Resort Development will play a part in developing the Likupang Special Economic Zone (SEZ). Can you share with us about Sintesa's plans for the SEZ project?
This is our first involvement in the government SEZ project that we got last year. We partnered with the regional government to develop 600 hectares of land in which 200 hectares would be designated for conservation purposes.
Our program aims to create eco-tourism in the area. In the first stage, we will develop basic infrastructure on 200 hectares of land such as creating a master plan for an eco-resort and a cultural village. The area will be powered by geothermal energy. As for waste management, we have coordinated with the Environment Ministry to apply good waste management and create water treatment plans.
There will be residential areas and apartments too, but these are all long-term projects.
You are one of the members of the omnibus bill on job creation task force. What is your take on commentators who say that the bill is more beneficial for business players than it is for workers?
We need the omnibus bill because Indonesia is having difficulties in attracting investors and we are experiencing a current account deficit (CAD) over the past five years. Unemployment is rising and we need to be able to provide enough jobs.
The omnibus bill on job creation is a breakthrough in the sense that it could simplify regulations and it is important because it can help attract more investments that can help create jobs and prosperity.
The omnibus bill is pro-government and for the greater good. It is a misnomer when people say the bill is more beneficial for businesses. I think that if Indonesia's investment environment is favorable and small and medium enterprises can grow, this is all beneficial for the Indonesian people. It needs to be clarified that this bill is not only for business players. It helps Indonesia grow.